The following is the transcription of one of the Running Long podcast episodes, were Francesco interviewed Emile Forsberg.
01:22
Francesco: Welcome to Running Long, the podcast brought to you by Vert.run. Today, we are lucky to have the great Emelie Forsberg here on the show. Emelie is one of the greatest champions of our sport, an inspiration for many, and one of the athletes I have looked up to over the years. She's one of the most decorated and successful trail runners of our generation, an intrapreneur, outdoor lover, climate activist, mother, and much more.
Francesco: Many of you know, I've been struggling with a few injuries and my mental health related to my professional life as an athlete. A few weeks ago I shared a little bit about struggling with self confidence and my purpose on social media and Emelie you wrote a comment on the post that said how important it is to focus on the small things in life and that everyone deserves to be happy.
04:08
Francesco: Your words really resonated with me and I have thought a lot about them since the moment you posted, so thank you for that reminder and thank you for being here with us today on the podcast.  
04:28
Francesco: Have you ever had moments of struggle in your career as an athlete, not so much physically, but mentally? And what are some of the little things that have helped you find your "why" or the meaning behind what you do? 
05:01
Emelie: It is something that we all experience and you can never compare yourself to others because we are all living a different experience. I remember my first very low moment in life, I was about 20 years old or so and was having a tough time for a number of different reasons. But I had running which was the only highlight of the day for me. I think this was really how my relationship with running started and continued to grow over those months. 
06:11
Emelie: I've definitely had other low moments where I've struggled mentally with motivation like when I injured my ACL and went through a bit of rehab for that. When I get down, I try to remember just how lucky I am to see the sunrise or sunset, or see beautiful flowers bloom in the spring, or simply to be able to breathe fresh air. I try to focus on being in the moment and on little things that bring me joy even if they are small and recognise that it truly is such a gift to be alive. I know this might sound cliche and sometimes this is so much harder than it sounds but I do try to just focus on the small things in life.  
07:23
Francesco: This is such a great perspective on this, Emelie. Thank you.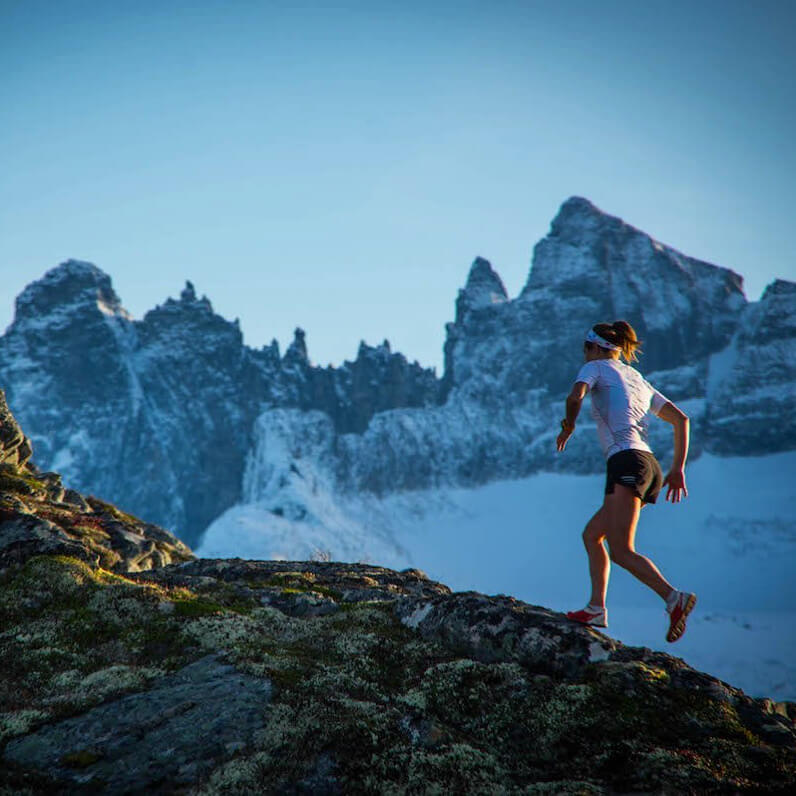 08:02
Francesco: How have you been doing? How is your trail running going? 
08:24
Emelie: Life is good here. Our youngest child is almost a year old now. I had been spending a lot of time contemplating whether or not to keep competing in ski mountaineering and running, but decided I haven't given it my all just yet. I want to keep working and training and I'm really enjoying that process. 
10:38
Francesco: You've had such a great career as a professional athlete. What motivates you to still get out there and train? Is there anything in your career that you feel like is missing?
Emelie: I love the training. I usually just go out there and do whatever I am feeling. I'm excited to see where I can go with a bit more structured training. Honestly, I just love being out there exploring and doing long days in the mountains. Lately, I've gotten more nerdy about my training, maybe that is influenced by Killian a bit, but it's been great to be able to talk training with him again and ask him a lot of questions I didn't care too much about before. 
12:50
Francesco: How do you balance training with everything else you have in your life, like being a mother, and an entrepreneur?
13:42
Emelie: I have a lot of different projects going on and we live on a small farm, so there is always work to do outside and that is probably the one thing I have the least amount of time for these days. I definitely have a passion for growing and cooking my own nourishing food, and eating a sustainable plant based diet, so this is something I'm always working on. On top of that there are the things like working with my sponsors that I am so appreciative of and there are many projects I'd like to do with them.  I've realized that I need to prioritize my training in a way I didn't need to before and my girls always come first. I think that goes without saying, but they are number one. 
16:08
Francesco: Where does this passion for farming and nature come from?
16:15
Emelie: Growing up, we always lived close to nature and my grandparents were farmers. Nature was always there for me. When I was in high school and college, I really started to care more about the environment and decided to study Environmental Health and Sustainability in school. 
18:04
Emelie: I think it's a really tough topic because there is such a negative stigma around it, but that makes it even more difficult for people to talk about it and be open if they are struggling. 
Everyone is an individual and some people can be skinny and healthy and for others, that doesn't work as well. We all have our own struggles and I hope that we can all be less judgemental towards each other around this issue, and work to keep a more open conversation going.  A lot of times professional athletes get this reputation that we're strong and we don't have these types of weaknesses. So it's been hard to open up on this topic and, but there are people, fortunately, who are supportive and sharing great things on this topic that is affecting athletes across the board, not just runners.  
23:28
Francesco: What's your relationship with social media like in general? 
Emelie: It's an interesting topic since– I have really enjoyed sharing small things from my life like my runs, beautiful mountains, a good recipe, etc. It's a good reminder of capturing the small things in life, writing them down, and noticing them. In general, things have changed a bit in the world of social media, but for the most part my account is still just me sharings things and thoughts. I do find it really tough when terrible things happen in the world and I wonder why am I here on social media posting about my training when I could be doing something else to help. 
I think "why did I study biology?" and I haven't done anything to better the world with it.  I definitely have doubts some days, but then I have to take a step back and believe that I'm doing the right thing and I'm in the right place. 
27:19
Emelie: Sometimes I think social media can be a good reminder of how good life can be or sharing your struggles might help other people who are also struggling with something feel less alone when they see it. 
28:56
Francesco: Now besides being an athlete, you're also a businesswoman. Tell us about your business, Moon Valley, and how that was born.
29:18
Emelie: It's always been a dream of mine to start something new or have my own cafe or something like that. Both of the other two founders of Moon Valley, Mimmi and Ida, share similar values as I have in terms of nutrition, good food, sustainability, and seasonality, so we started thinking about starting a business together. One year later we had our first three bars and our endurance fuel. Even if I was not the founder of Moon Valley, I would still love the products. We have been growing organically–we started with nothing, we still have nothing. We're a really small company. But we're growing and we want to grow in a good way. We don't want to take too big of steps and we want to be part of all the decisions.
33:54
Francesco: The last topic I wanted to touch on is the evolution of the sport of trail running. You've been in the sport for more than 10 years, and the sport has changed dramatically compared to what it used to be back 10 years ago. How do you envision the future of trail running? What is your opinion on the future of female trail running? Not necessarily as far as competition, but the training opportunities and support that women get from sponsors.
34:36
Emelie: I think it has been amazing to see how the sport has been growing and the deeper level of competition between both women and men. I'm really happy to see that the sport is growing and that it's many more women. I know it's a touchy subject, but I hate to hear when a women gets less from a sponsor, like three times less than a man, even when she is an exceptional athlete. It's tough to know how we can change this or what to do to start addressing these issues. I think support from male runners and speaking out about it is a good place to start. Being transparent and standing up for what you believe is right is also a huge piece to this.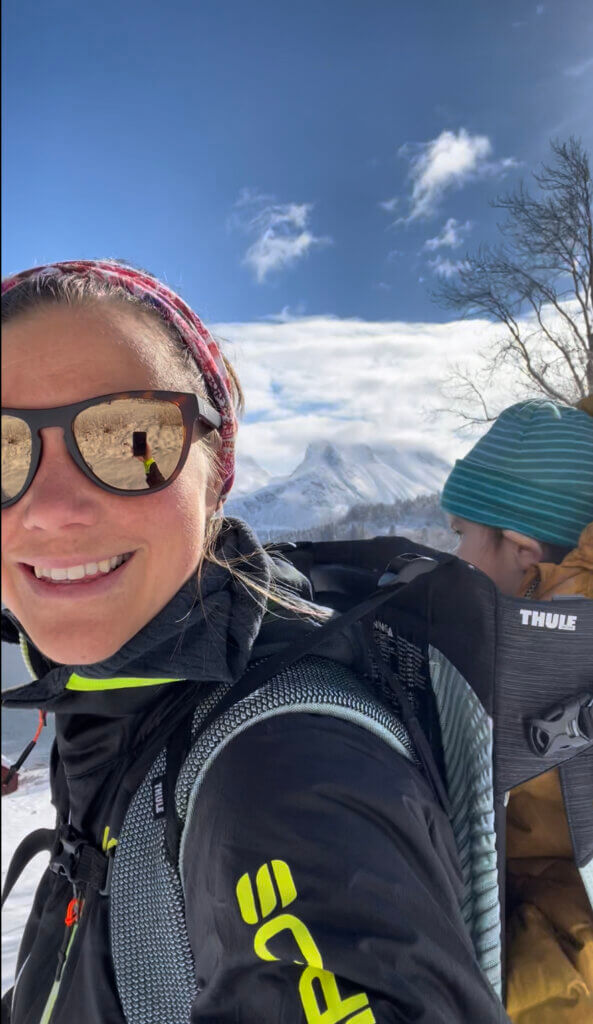 38:45
Francesco: Do you have any book, movie, or podcast recommendations that you've watched or listened to recently?
39:27
Emelie: One podcast that I've liked recently is from a woman in Sweden named Laura. She lives on a farm and she's one of Sweden's biggest influencers in a good way. She's just so clever. I recently listened to her podcast on training and she said to think about training as a way you are investing in yourself–not something you need to do but more of a way of taking care of and being kind to yourself. 
43:03
Francesco: Thank you very much. Thank you for listening today. And until next time, Happy trails.