It feels "easy" to be a trail runner when the sun is shining, the air is balmy and the days are long—but in the dead of winter, finding motivation can be an honest struggle. For most of us, winter means shorter days, freezing temperatures and trails that are less-than-amazing (mud, ice, snow, slush…fun.) 
It's totally normal to have a hard time staying motivated to get out and train during the winter months. (Even professional trail runners suffer from lack of motivation to get out during the winter.) Plus, if you think about it from a biological perspective, winter is also the time when our bodies and brains most seek rest after a long year of activity. 
But after taking a few weeks to rest at the beginning of winter—which is always a good idea, as recovery is a crucial part of training—it's good to start moving our legs and getting into a "pre-season" training swing. 
Exercising or staying committed to a training plan throughout the winter might sound tough, but we can absolutely attest to the value of building a base in advance during the winter months. You'll definitely feel it—both in terms of your strength, and in your being less susceptible to injury—when you start to train seriously for your spring, summer and fall races and other goals. 
Whenever you find it hard to get in a winter workout, remember that even little things contribute towards the whole. Think about it like saving money: it's much better to "put away" a few workouts a week and have something in the bank when spring comes, than to do nothing and have to start from zero when it's time to train. 
Winter training isn't about being strict—it's about "just getting out"
Here's the cool thing about winter training: you do NOT have to be overly strict with yourself or your training schedule. In fact, the most important part of winter training is just to keep up the consistency: keep moving. The idea is that your winter workouts shouldn't be stressful—they should just be a simple part of your routine. A good rule of thumb is that in one week, if you just do: a few aerobic training sessions, one day of intensity and keep up your core and strength routines, you'll already be equipped with a solid base for the rest of your year's training. Try not to get caught up in the logistics of your winter training, and just get into a casual flow with these three types of workouts. 
Even in the summer, the hardest part of doing a workout is often just getting out the door. The first kilometer always feels the hardest (especially in the winter) but try to keep your head up by remembering how good you'll feel when you've finished the run. For many of us who run for the mental health benefits, this is really important to remember–especially during the winter months, when less sunlight and shorter days make it tougher.
Here's one easy way to get out the door for a run when it's extra cold: since there's usually a temperature discrepancy between our homes and the outdoors in the winter, we recommend that you do a mini warmup in your house before heading out for your run. This will help you adjust better to exerting yourself in the cold air.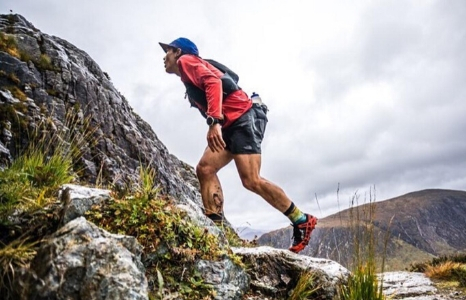 Staying in trail running shape has never been easier. Try our customized winter training plans ($6/week.)
Winter running essentials—here are the crucial pieces of gear you need.
Equipment is the first base you've definitely got to cover when facing a long winter. When you're up against cold, freezing rain or show, it can be truly miserable to get out day after day if you don't have the right equipment (trust us, we've been there.) In order to enjoy your time outdoors—and thus maintain your motivation for continuing to get out regularly—it's worth making sure you've got your equipment game taken care of.
After our collective years running in the mountains of Patagonia, Chile (we've clocked lots of wet, cold hours!) here's what we most recommend:
 3 key layers: a good base, mid- and outer-layer.

Dressing in layers allows you to strip down/layer up during different points in your workout. A great place to start is with a good base layer. This will keep your body warm throughout your workout. On top of that, if you're dealing with particularly cold conditions, you can add a thicker second layer. Finally, a good third layer like a windbreaker or rain jacket will keep out…well…wind and rain. 
Depending on the conditions, you can mix all three layers, or maybe you just need layers one and three. It totally depends on what you're most comfortable with. Have a question? Send us an email to team@vert.run and we'll help you pick the gear that's best for where you live and run! 
Gloves, socks and a hat.

When running outside in the winter, you've got to make sure that your extremities are well taken care of. All the layers in the world won't do much if you've got bare hands or freezing feet—so three key pieces of gear in your winter arsenal should be: a good pair of gloves, socks and a hat (or a running ear warmer/Buff if you like to run with a ponytail.) If your local trails or roads accumulate a lot of snow or ice, make sure that your shoes have sufficient grip…and if not, it's probably worth investing in some micro-crampons. There are lots of great options on the market (if you need advice, shoot us an email to team@vert.run) so snow and ice shouldn't be an excuse for not getting out in the winter. 🙂 
When you get home from your run, it's really important to change your clothes as soon as possible. It's not a good idea to stay in your sweaty (or wet) gear—when your body cools down from your workout, staying in damp running clothes will increase your chances of catching a cold. If you don't usually finish your workouts at home (e.g. if you finish in a park to do your core/strength routines, or if you like to finish your runs at the grocery store, etc.) it's a good idea to keep at least a change of t-shirt with you so that you can take off your damp gear right after you finish running.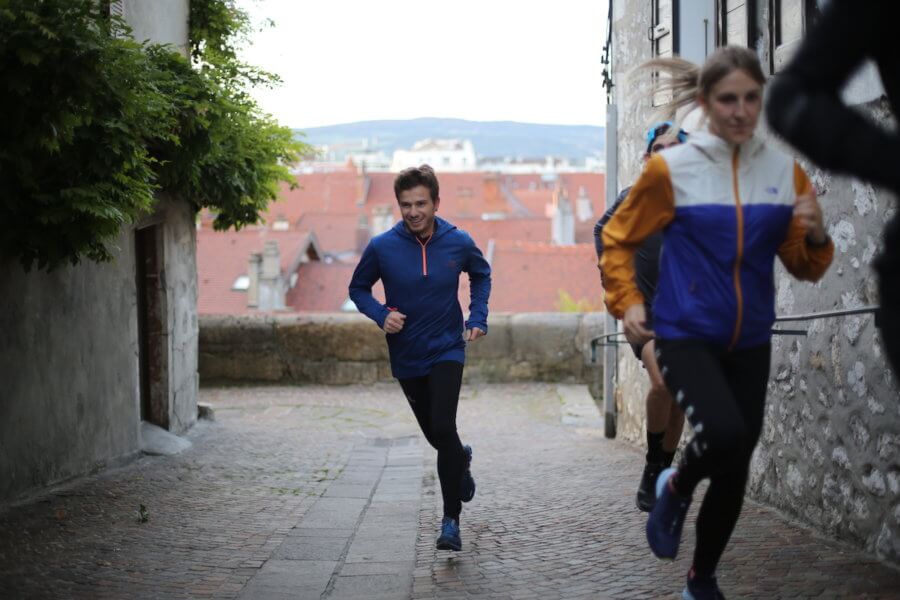 Setting spring and summer goals: a huge motivation booster
Another really important thing that you can do to keep yourself motivated throughout the winter is to sign up for a summer race (or, since none of us know what 2021 is going to look like, set a personal goal) as soon as you can. It doesn't matter if it's an ultra or a 5k—the act of training for something concrete will serve you more than you might realize. 
This can be, for example: a 21k loop on your favorite trail; a local  cross country race; or even a short, fast road race. Again, the point here is to give your brain something concrete to look forward to, and to give purpose to your days of winter training. Having a spring goal will also help better-prepare you for any upcoming summer goals or races.
Another good tip is to tell your family and friends about your spring and summer races and goals. Accountability is huge in staying motivated, and it'll help you stay focused on your goals when you've told others about what you've got coming up.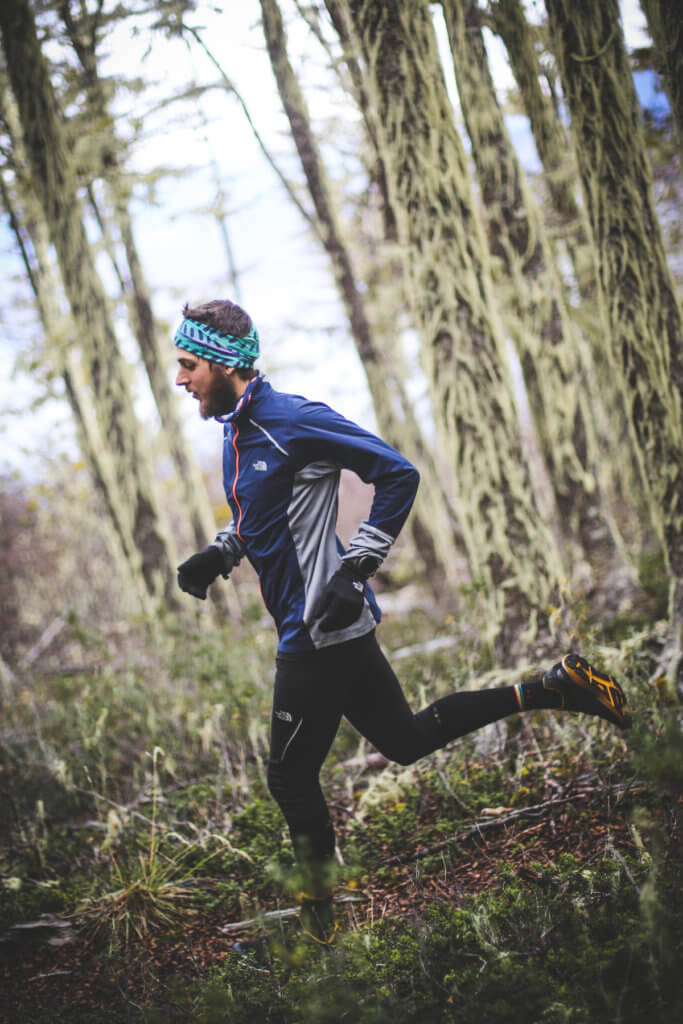 Have you heard about our Pro Athlete collaborations? Start training with a plan designed by The North Face runner Hillary Allen–for just $6 / week. 
Even though winter training is important, that doesn't mean that it's necessary to get over-obsessed or to train at a high volume during the winter. Consistency is the most important thing you can build throughout the winter. Why? Because consistency builds the base and the mindset you'll need when you start increasing your volume later in the season.
The best way to do this is to use a training plan—like our free plans, or our new winter training plans for trail runners. Winter training is about staying active and building consistency, and our plans are designed to help you do this. (Need help picking which plan is best for you? Email us to team@vert.run, tell us about your year's goals, and we'll help you pick the right plan.)
To stay motivated throughout the winter, it's a good idea to incorporate some specific workouts like strides or intensity into your weekly training. Build this into your routine now, and you'll set yourself up to remain consistent throughout your heavier months of training. This way, when you start to increase your volume later in the season, your body will already feel nimble and "awake"—which will also give you more confidence when it comes to train specifically for your summer and fall goals. Another great workout is strides, which are written into all of our training plans. (Want to learn about how to correctly run a stride? Read our stride guide.)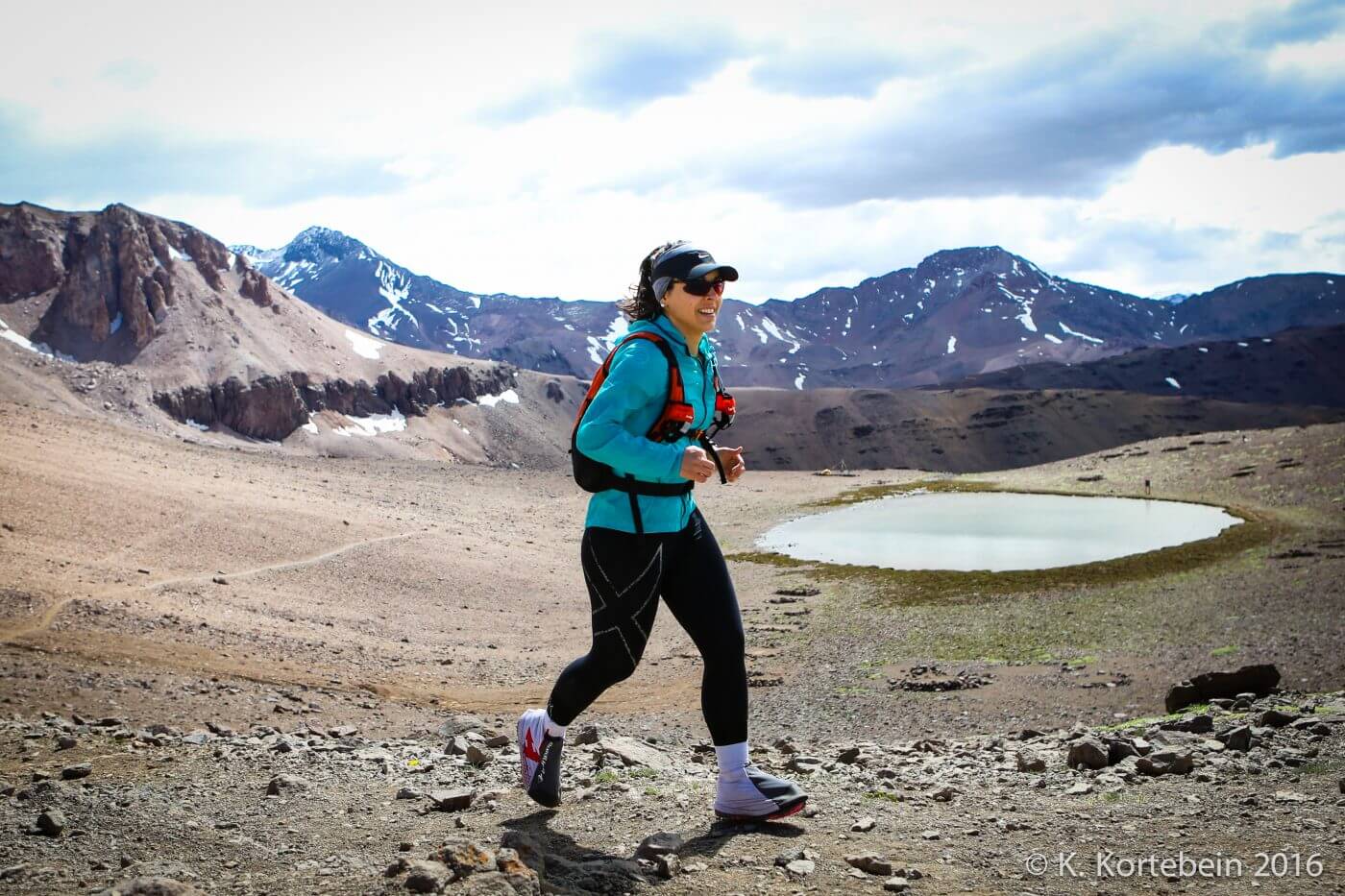 Strength, core and jumps routines: conditioning for trail runners
The trail off-season is also a great time to start building strength. If you're familiar with our training philosophy here at Vert, you probably already know where we're going with this: strength, core and jumps routines are über important for trail runners. These three routines are crucial to preventing injury and building trail running success. 
You don't need to sign up for a gym membership to build strength for trail running during the winter. (That being said, if a gym helps you stay motivated and you have the resources to go to one, it could be a great way to keep up your motivation and fitness throughout the off season.) If you don't have access to a gym, just try to incorporate 20-30 minutes of core/strength routines into your week, twice a week. By building this base throughout the winter, your legs and body will be much more prepared for a higher volume of running later in the season. (That's why we build core, strength and jumps routines into all of our training plans.)
As always, remember that quality is always better than quantity when it comes to these routines. It's better to do fewer reps but to do them well than to do a poor run-through of the whole routine. 
Need a core, strength or jumps routine? We've got free routines for all levels. Choose the correct routine for your level by clicking here.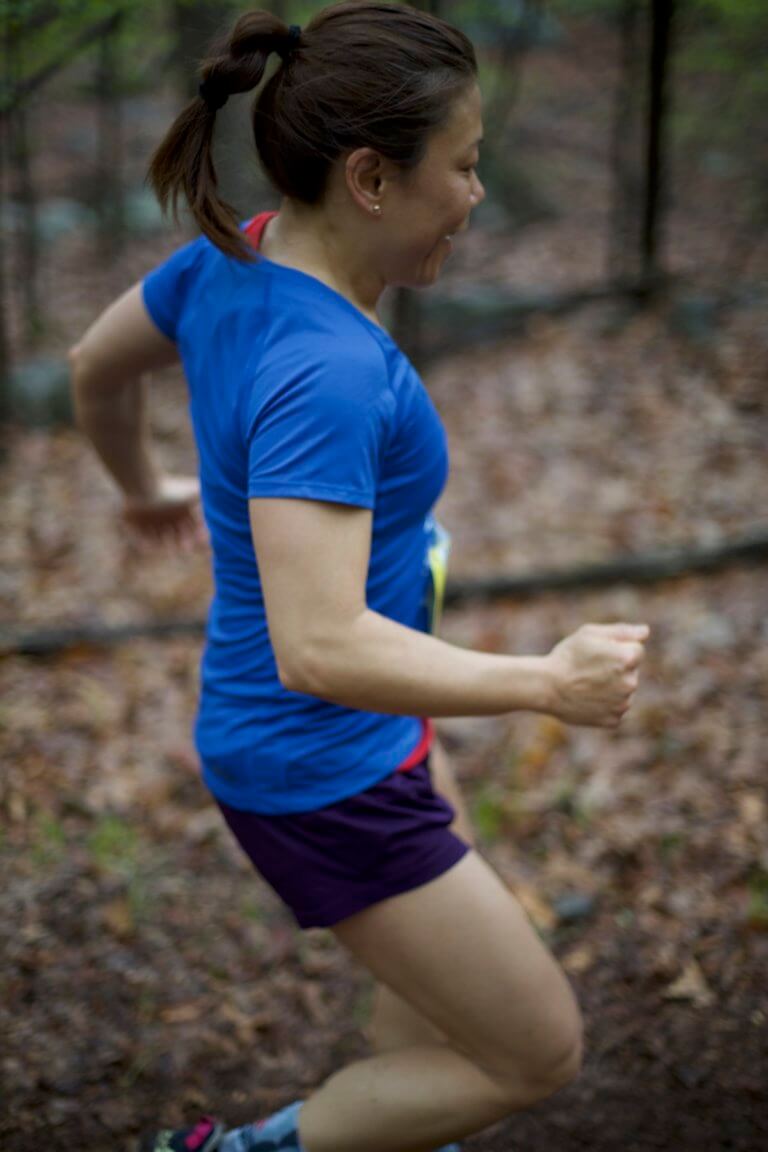 Winter experiences, new sports and training at home: cross training for trail runners
Winter can be a great time to get out and connect with nature in a new, different way. Since you're probably not training specifically or intensely for a race during the winter, this season is optimal for rediscovering why we run and appreciating the nature and world around us. Forget about training with a heart rate monitor or worrying about your splits. Just focus on getting out there and enjoying trails that are new to you, parts of your city or nearby national or state parks. 
The off-season is also a great time to try out new sports. Remember that any form of aerobic activity that you do during the winter will serve you during the trail running season. If you live in a place where it's easy to do winter sports, we highly recommend cross country skiing or ski mountaineering. These two sports are especially great complements to trail running. Plus, it's never a bad idea to take swap out runs for ski sessions as a way to lessen the yearly impact on your joints and to take an "active break" from running. Do note that ski mountaineering, in contrast to cross country skiing, requires that you understand snow conditions and are prepared and practiced in avalanche safety. If not, or if you prefer to keep things simple, cross country skiing is a virtually risk-free—and equally awesome—option. 
Another way to mix up your winter training is to work out in your own home. We've already talked about doing your core, strength and jumps routines at home, and that's one place to start. If you've got the resources, a treadmill or indoor bike are also good options for at-home workouts. If you cycle, another great (and more wallet-friendly) option is to invest in a "trainer" for your bike. This is essentially a roller which allows you to turn your regular road bike into a stationary bike. The cool part of this is that there are a lot of apps that allow you to connect your bike to your computer or TV, and game-ify your indoor biking experience. (We at Vert.run especially love and use Zwift during the winter.) 
Still looking to shake things up? Consider a winter membership to a pool, climbing or bouldering gym. Swimming is a great way to stay in shape with zero impact on your legs, and climbing and bouldering build strength. Plus, climbing and bouldering are a great way to socialize and hang out with new (or old) friends. Keeping that dopamine up in the winter can also come from positive social interactions, eh?
Find or build trail running community—even if it's just with one other person
On that note, our final piece of advice for staying motivated throughout the winter is to find partners, friends or running groups to head out with. It doesn't even matter much if the group's level is the same as yours—honestly, it sometimes even helps just to get you out the door. A good place to find like-minded runners is through Facebook groups or Strava running groups. Or, stop into your local running shop and ask if they have any advice. 
Or, if you have a buddy who's a stronger/less strong runner than you are, it's still a great trick to set a "starting point" for your runs together. You can run together for the first 5-10 minutes, and then each of you can do your own thing—but the accountability of meeting will have helped each of you get out for your run. And/or, you can set a "finishing" point to keep you motivated; you and a friend can each plan to end your runs at your favorite cafe. A hot coffee or tea with a friend is a great winter training motivator.
You're ready to rock the winter!
We really hope this has been helpful for you! Even though a lot of these ideas might sound obvious, we ourselves find it helpful to keep it all in one place so that we have a "bank" of ideas to pull from when we find it hard to stay motivated throughout the winter. 
What's your favorite way to train in the winter? Did we miss something? Email us to team@vert.run, we always enjoy hearing from you.
No matter if you live in a flat place or in the mountains, we've got a training plan to fit your needs!