A quick note: I have absolutely no affiliation with any of these brands. Vert.run is the training platform for trail and ultrarunning, and we're just passionate about great trail shoes. Enjoy!

Alright, here we go: new year, new shoe guide, right? It's time to break down the best trail shoe options out there for 2021. 
As trail and ultra runners, we often talk about race nutrition, pre-training food, recovery, and training. But for me, trail shoes are definitely (and rightfully so) one of the hottest topics among trail runners and to myself. And with every year that passes, we keep seeing more and more new models (and brands) enter the market. So that's why I put together this guide: not only to see what's out there, but to help break down what the new trends and technologies are that we'll find on the shelves this year.  
The feeling of running (both during

regular training

and during races) in your favorite pair of shoes–and how everything feels so natural and smooth with them–does make a difference and that's why, as trail runners, we need to be on top of what is out there. At the end of the day, our shoes are our direct contact point with the trails we're running on…so, arguably, they might be the most important piece of gear that we choose.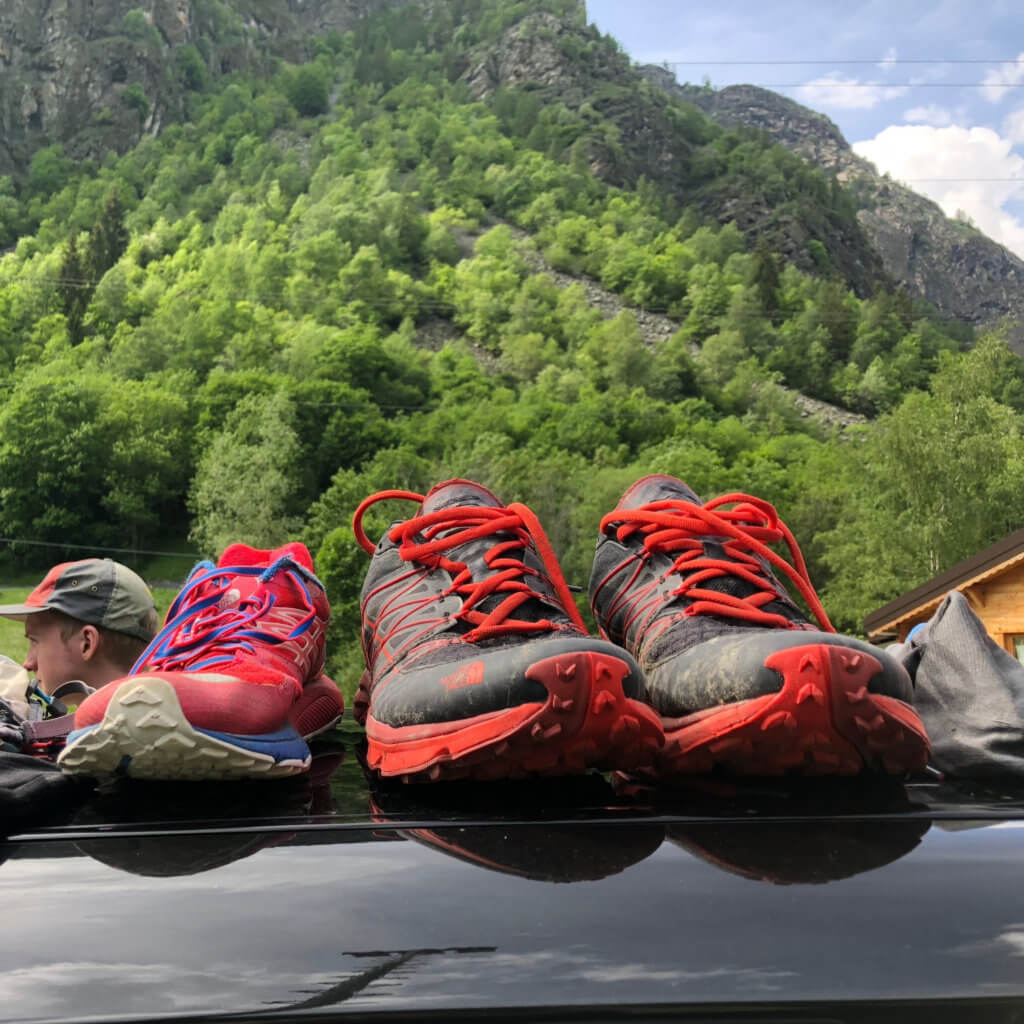 2021 trail running shoe trends: what can we expect to see?
Let's break down the latest trends and technology hitting the trail running shoe market this year. The very first thing that comes to mind is: new midsole materials. It's impossible not to talk about all the new midsole materials that have (finally) arrived on the trail running scene. We're talking everything from carbon plates, to "nitrogen-infused DNA" and "Cloud Technology." With the arrival of these things, among lots of other materials, we in the trail world are finally getting a bit of this "hype" that road shoes have seen over the last couple years with some of the models we're seeing this year for running trail and ultramarathon races.
Apart from the super-bouncy propulsion system we're starting to find in some of these new shoes, there's another awesome trend we're seeing this year on the trail shoe scene: the more environmentally-friendly efforts that some brands have been making with their shoes. Whether that is using some sort of recycling material (Like Salomon and Adidas) or even going further by trying to launch a subscription model for you to be able to replace your old shoes with a new pair, with the brand taking care of the recycling process of the shoes (ON is doing this), we're happy to see it's not all just about technology and building fast, grippy shoes–but also that these brands are acting more responsibly for our planet. 
So before we start with our picks of the best trail running shoes for 2021, we remind you that:
We divide the shoes into 3 categories (just like

we did in 2020

):

the Maximalists, the Middle Grounders

(aka, normal shoes) and finally;

the Minimalists

(yeah, they're still around. We'll dig into these, but won't go into the super-minimal barefoot sandal style.)
It's really important to remember that the trendiest shoes–or the shoes that work best for another trail runner–might not be the shoes that work best for you. That's why, at the end of the day, you should test and try as much as you can when choosing which shoe to commit to for your next race or personal challenge.
It's incredibly important that you train in the shoe before you race

. Trust us; you will want to be 100% sure that they'll perform the way you want them to on race day, and that you feel totally comfortable in them. The old saying of "never try something new on race day" applies

especially

to shoes. So no matter how cool a shoe looks in a YouTube review or even here, always remember to buy your shoes with enough time so you can try them yourself before you race. 
Finally, we definitely encourage having at least a couple different pairs of trail shoes in your rotation if you train regularly. No matter how awesome a shoe feels when it's new, it will wear out (especially if you train on rough trails), so be careful not to run in a single pair of shoes day-in and day-out.
So that's it. Now onto the hottest trail shoes for 2021:
The Maximalists: 
Hoka One One – Evo Mafate 2:
Created with input from many of the most famous Hoka One One athletes (read, Jim Walmsley) the Evo 2 packs a lot of good stuff into a not-really-heavy shoe. It's got lots of cushion and a Vibram outsole that can help you navigate some rough terrain. This shoe is definitely well designed…and this second version is even better than the first one, since the upper now has a lycra material that gives a bit more freedom for your toes, which = more comfortable for running long.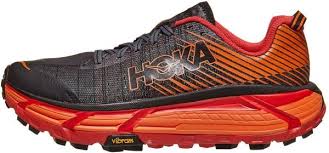 Hoka One One – Challenger ATR 6:
Yep, another Hoka. This shoe is becoming such a classic already. This year, we're on the 6th edition Challenger ATR…and with its nice cushion + a non-so-aggressive tread + very light weight overall, this shoe can be a great "road to trail" option if you like big shoes. (Meaning: if you're after some big cushion and run a lot of mixed trails with roads, you should definitely look at this new model.) The downside? Still, as in the past, durability may be an issue… especially if you use them a lot on the trails. Definitely not recommended for rough terrain.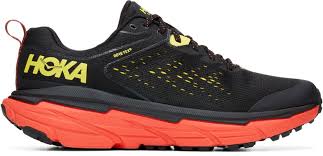 Brooks Caldera 4:
This is a new one for me, but coming from one of the oldest and more recognized brands out there, we think the Brooks Caldera 4 deserves a place here in the Maximalist category of best 2021 trail shoes. The Caldera 4 packs great cushioning plus an aggressive-grippy outsole into a very lightweight package (considering that it's a 'maximalist' shoe) and has more room for your toes than your regular Maximalist shoe (e.g. Hokas.) So if you like something like the Speedgoats or even the Evo Mafate one, but find that they don't fit your wider foot very well, you may want to check out the Caldera 4.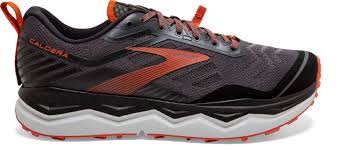 Topo Ultraventure:
Looking for a firm, robust shoe with a super durable outsole? Look no further. The Topo Ultraventure is one the new shoes we can now find out there targeting runners (and even hikers) that want a solid shoe for longer runs/hikes in technical terrain. With a Vibram Megragrip outsole and a rock plate for protecting your foot from sharp rocks, this new shoe may be a good choice for those running constantly on challenging terrain and who want something durable. Of course that comes with a price: its weight. They clock in at 283 grams for an average-sized men's pair.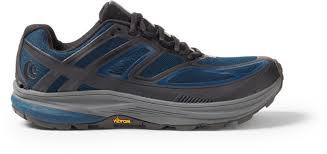 Special mention: Hoka One One Speedgoat:
Hard to leave this category without mentioning one of the best maximalist shoes of the last couple of years, and that is the Hoka One One Speedgoat. I didn't include them with the rest because Hoka hasn't released a new version of it this year, but since they're one of the favorite shoes out there in the trail and ultrarunning world, I wanted to give them a special shoutout.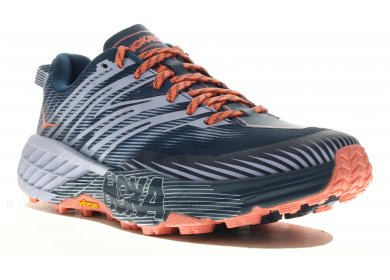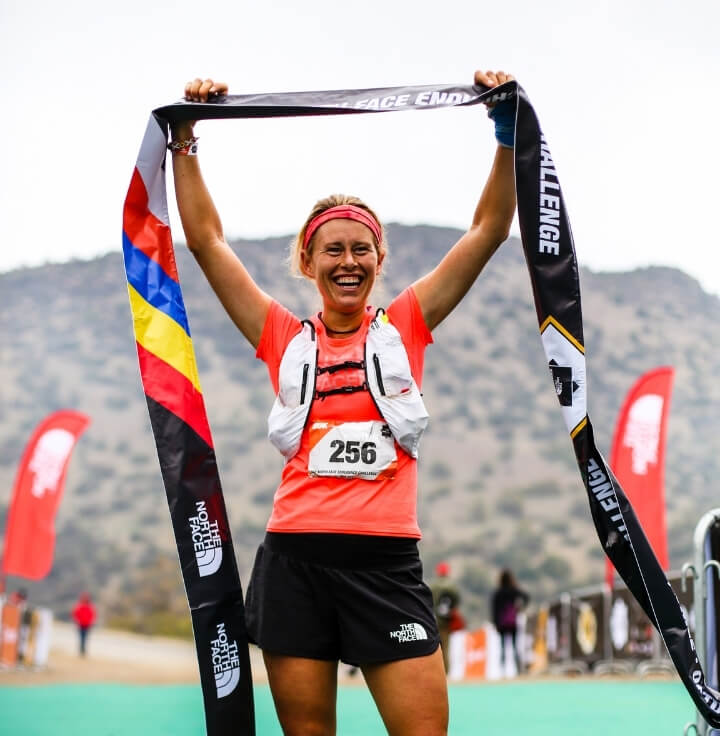 Have you heard about our Pro Athlete collaborations? Start training with a plan designed by The North Face runner Hillary Allen–for just $6 / week. 
The Middle-Ground:
The North Face Flight Vectiv:
Since we started this article by mentioning the new trends towards–and all the hype about–some of the new midsole materials we're seeing in trail shoes, it's only appropriate that we start the Middle Grounders with the new The North Face Flight Vectiv shoe and their carbon plate technology. The Vectiv promises to reduce impact by 10% while still remaining responsive and lightweight. Sounds amazing, right? Created with direct input of many of the TNF athletes, the Vectiv is years in the making and focuses on providing a great, smooth-stepping shoe for Ultramarathon distances–but without sacrificing lightness. Downside? Price point. The new Flight Vectiv costs a steep $199 USD. (The Vectiv line does, though, have a few other models ranging in price from $139 – $169 USD.)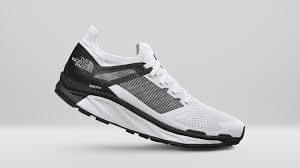 Nike Terra Kiger 6:
Ok, so this shoe is now on its 6th version and Nike hasn't messed with it much, so it's still a great all-around shoe for those who want cushioning, but nothing too extreme. With a solid outsole that handles some technical terrain (nothing crazy) but at the same time, feels smooth on a hard-packed surface, you really can't go wrong with this shoe. A fun bonus: Nike usually offers a range of colors that are not so common in the trail running shoes if you're into flashy colors.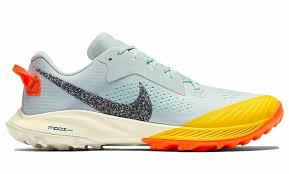 Brooks Cascadia 15:
Can you really believe this shoe is now on its 15th edition? Amazing. Talk about tradition and a true 'middle ground' shoe for running trails, eh? You know what you get when you buy a pair of Cascadias: a great all-around, comfortable shoe that maybe doesn't excel on one specific kind of terrain, but can handle pretty much anything you throw at them. This time, the 15th edition hasn't changed much, so if you're already a fan of the Cascadias, you'll enjoy these for sure.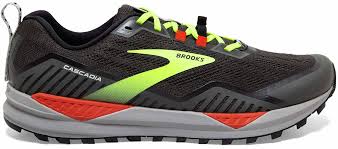 Brooks Catamount:
Talking about tradition and what Brooks has done with the Cascadias over the years, that doesn't mean the brand is lacking in innovation and development. This is where the new midsole technology boom comes out, and their "Nitrogen-Infused DNA Flash Midsole" (which basically is the same thing inside the marathon shoe they designed to compete with the likes of Nike's Vaporfly and others) is found inside this middle-ground racing trail shoe called the Catamount. With a 6mm drop and way lighter than the Cascadias, this shoe still has lots of cushion to offer. Plus, paired with its not-so-aggressive outsole, this shoe is one of the most exciting offerings for the year. Only downside? Price, of course. The Catamount costs $160 USD.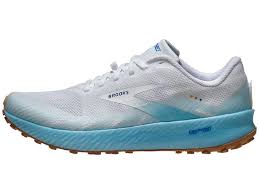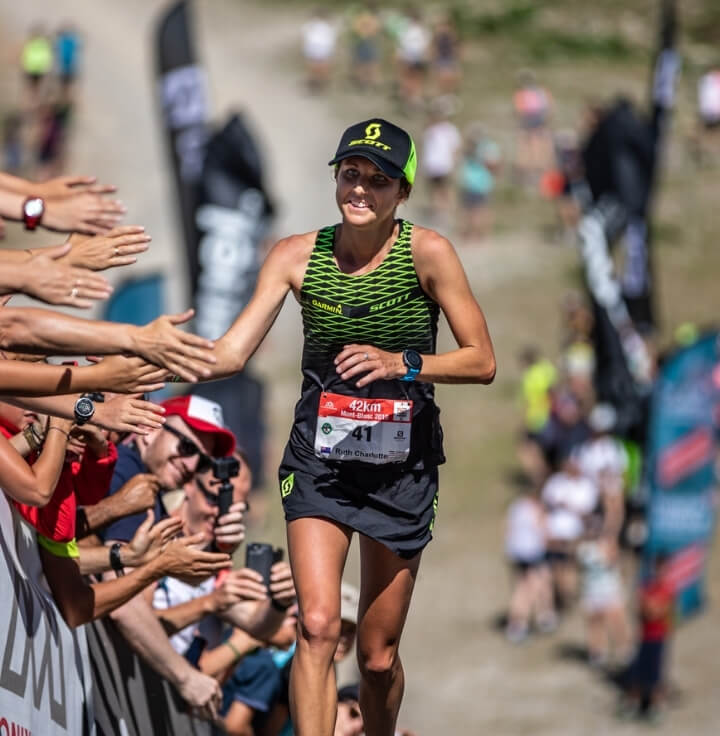 Break your 50k PR with a training plan designed by Ruth Croft, the overall winner of Tarawera 100k in 2021 –for just $6 / week. 
ON Cloudventure:
ON is one of the newer brands we've seen emerging in the shoe market these last couple of years…and they've made a name for themselves pretty quickly, especially with their unique approach to cushioning and their "Cloud Technology" that you can see featured in most of their shoes. The Cloudventure is a great all-rounder shoe that has some great cushioning (with their proprietary system), a 6mm drop and lots of protection for your front foot–yet, with a very breathable upper. Extras? The weight is actually pretty OK for being a middle ground shoe (260 grams.)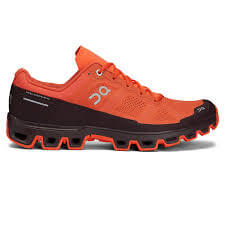 Salomon S-Lab Ultra 3:
Of all of the Middle Grounder shoes on this list, the S-Lab Ultra may be the most race and performance oriented out of all of them (competing with maybe the new launch of TNF Vectiv and the Brooks Catamount.) With the 'right' amount of cushioning, a specific grippy outsole designed by the people of Salomon and a new updated upper that fits your foot like a glove, the S-Lab Ultra 3 is definitely one of the crowd favorites on this list. Keep in mind that with almost all of the high-end shoes from Salomon, the pricing and durability may be the only real downsides…so while the S-Lab Ultra 3 is definitely not your everyday shoe, it is one you should absolutely consider if you're looking for a nice, well designed shoe for running long distance races (or long trainings) on the trails.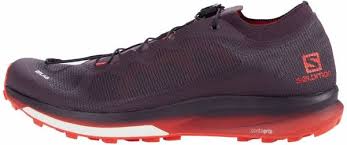 VJ MAXX:
In our "2020 Trail Running Shoe Guide," we introduced this Nordic brand and their spectacular XTREM model shoe made for people who wanted an outstanding grippy outsole with just enough cushion for running hard on the trails–and this year is no different. This time, we bring you the MAXX version, which is basically the shoe they designed for people who wanted to go longer and needed a bit more cushion for logging big miles. The VJ MAXX is a pretty light shoe for being in this category, but still feels way more robust than the XTREM version we already mentioned.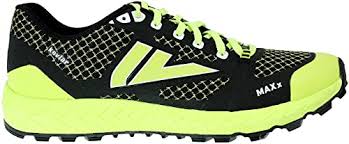 Scott Ultra RC:
Scott has been making shoes for a long time now, and even though they have very successful athletes wearing them at big races, for some reason you don't seem to find many trail runners wearing Scott shoes every day…and that's weird, because their shoes are great. Their whole RC line is pretty good if you enjoy some decent cushioning + some big lugs that don't bother you while running on hard surfaces, but now they've just come out with the Ultra version and it is definitely a shoe to look into if you usually run big miles on technical (or wet) terrain. Maybe the only downside is that they're not really easy to find.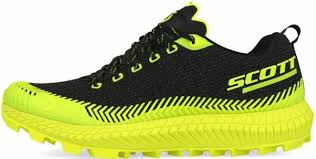 Inov-8 Terraultra G 270:
Just before we jump into The Minimalist category, we wanted to put this shoe from Inov-8 into our Middle-Grounders list…and even though this brand has been well-known for some amazing fell-racing and more minimalist shoes, this time we decided to put the Terra Ultra in this category because it is definitely a shoe you can consider for running ultra distances. With good cushioning and its well-known traction, Inov-8 is known for being great when it comes to running on technical, muddy or wet terrain. Also it has been reported to have a wider toe box than the average Inov-8, so that's definitely good if you find other pairs of this brand too narrow for your foot and you want to run long distances with it.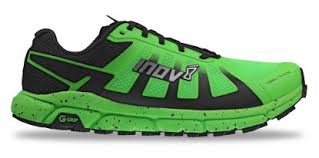 Special Mention: Salomon Speedcross
Wonder why I didn't include the mythical Salomon Speedcross here? Well, they haven't launched a new edition of it, so that's why I didn't present it as a new shoe for the season…but clearly, this classic from Salomon has won the hearts of thousands of trail runners, and with good reason: it's got a super grippy outsole and secure hold on your foot when you're running up and down technical terrain.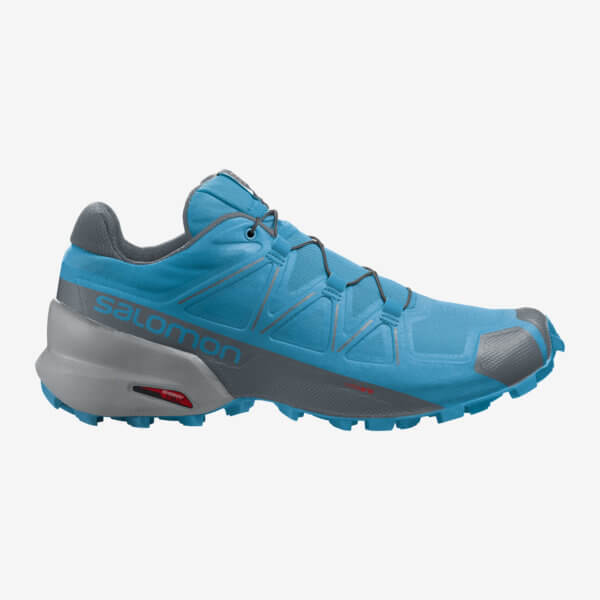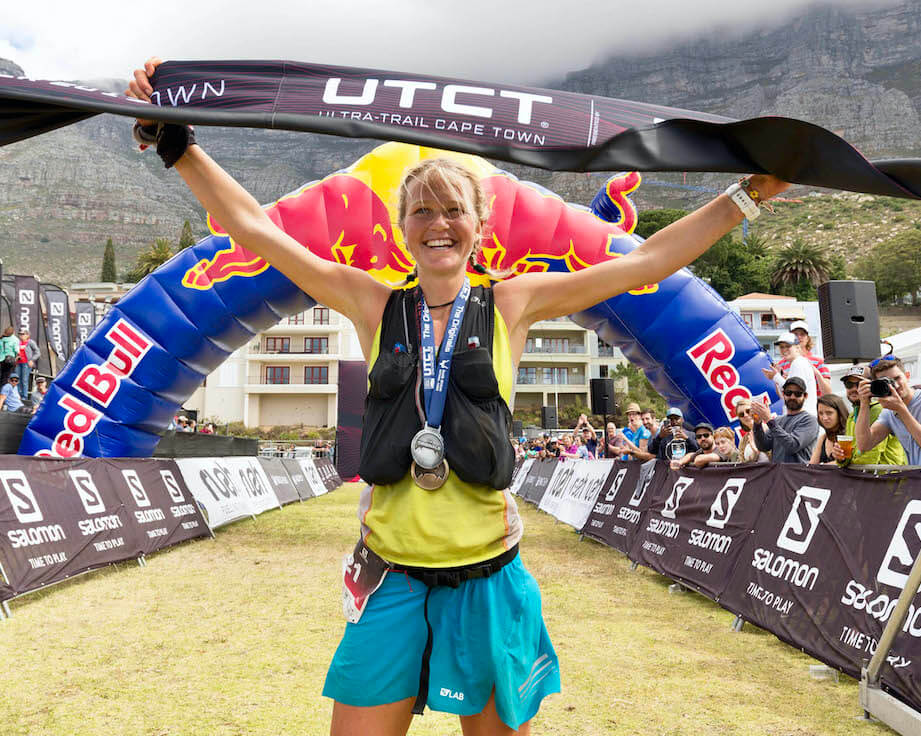 Reach your dream of becoming an Ultrarunner with a 12 weeks training plan designed by Lucy Bartholomew
 For just $6 / week — Including coaching
The Minimalists:
Altra Superior 4.5:
If you liked the 4.0 version of these shoes, you're going to enjoy the new upper on these ones. They re-designed the upper to last longer, and kept all the rest pretty much the same from the last version. So if you like zero drop shoes, a wide-toe box and a grippy outsole (but nothing extreme,) the new version of the Superior will definitely be a good fit for you.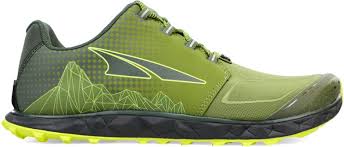 Arcteryx Norvan SL:
This Canadian brand has been working on trail shoes for a couple of years now, but the Norvan SL may be the first one that nails a category really well and that's: being an über-light ("SL" actually stands for super-light) racing shoe with decent lugs for technical terrain, and pretty minimal cushioning. Again, with the weight, (under 7oz!) it's not like you can ask for much, but this is definitely a shoe that you can use for some short mountain adventures if you like the minimal and super breathable upper feel. Definitely a shoe to try out if you don't mind 'feeling the rocks.'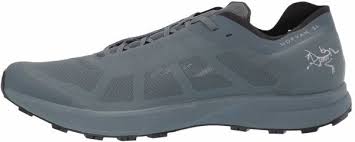 La Sportiva VK:
Looking for shoes that can go up as hard as you can? Well, La Sportiva came out with this shoe specially designed for VK lovers (which basically means they're made for going up, up, up) and even though you have some very decent material in the midsole (in the form of a thin layer of dual-density EVA) and a 'higher' drop of 7mm, this shoe feels pretty minimal but still allows you to run comfortably in rocky terrain. The VK are really flexible (yes, exactly, they're designed especially for the movement your foot makes when you're going up a very steep hill), have a quick-lace system, and an upper material that fits your foot like a glove. Very niche type of shoe, but definitely something to look for if you're into more minimal shoes for mountain terrain.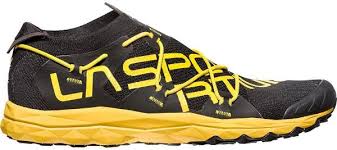 Columbia FKT Lite:
Ok, this one almost fits into the Middle Grounders category since it has a decent amount of material in the midsole (and a real minimalist will definitely tell you these don't belong here), but they're über-lightweight (8.2 oz) plus have a more minimal drop of 5mm, which makes the FKT Lite feel closer to the minimalist category rather than the Middle Grounder. With no fanfare at all, this may be the shoe you were looking for if you're into a more minimal type of shoe but still want some cushion that feels about right and responsive when running on the trails.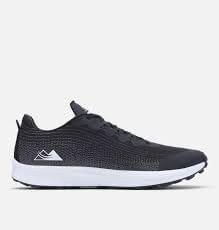 Merrell Trail Glove 5:
A classic in this category, the Trail Glove (just like the Brooks Cascadia in the Middle Grounder category) every year presents tiny tweaks to the original model, which you may end up liking or not–but each year, they still still maintain the core idea behind the shoe. With these shoes, that means you can run feeling almost if you were barefoot and with very minimal support.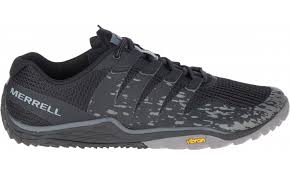 And that just about does it for the best 2021 ultrarunning shoes out there! We know there's a lot to choose from, and a lot of changing going on too…so we hope this has been helpful. 
To sum it all up: as you can see, the Middle Grounder category is probably the one that keeps having the most influx of new products and new technology incorporated, but there are still plenty of options if you like to run in big shoes or if you enjoy feeling the ground with the more minimalist shoe. 
Are we missing a must-have pair of shoes? Have a question about what might work best for you? Vert.run is the training platform for trail + ultra running–but we're passionate about good shoes, and are always happy to chat! Feel free to email us (team@vert.run) with any feedback or questions. Happy trails!